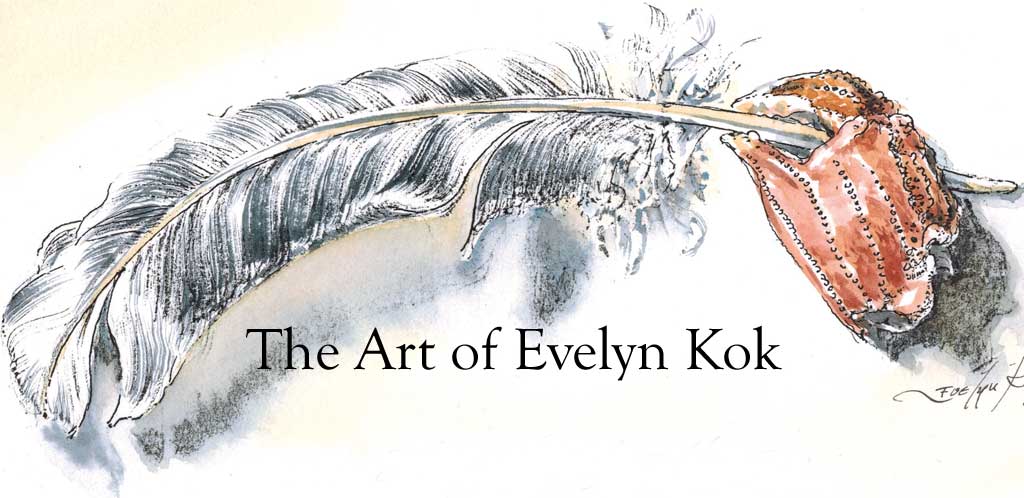 Evelyn Kok
1923-2014
Evelyn Kok's artistic career spanned 70 years. She was schooled in Boston where she became an accomplished medical illustrator and professional watercolorist. She married Professor Jan Kok and they eventually settled in Presque Isle, Maine. Evelyn's art flourished "up in the County" where she continued painting, crafted in clay, paper and fiber, made potato print items, printed calendars of her original works and handcrafted various musical instruments. She also taught watercolor painting, gave music lessons and composed hilarious musical scores about such whimsical subjects as compost heaps, rabbits, pollywogs and yard "sailing"...
In 1970 she discovered Stonington Harbor on Deer Isle and purchased an old building on the waterfront, fondly dubbed "the Heap". The Heap evolved into the Gallery of the Purple Fish, a studio and living quarters where Evelyn and Jan spent their summers. Evelyn became enamored with the Maine windjammer fleet that frequently sailed into Stonington Harbor. She personalized bookmarks for the schooner passengers earning her the name "the bookmark lady of Stonington". A visitor could view her other art works but not purchase them, causing much consternation to countless people who visited her gallery. Evelyn's joy was people not profit.
Evelyn passed away in 2014 leaving her lifetime collection of original art to her niece, Christina Shipps, to "deal with". The collection includes hundreds of fine watercolor paintings large and small, hundreds of pen & ink drawings, thousands of bookmarks. It is a daunting body of work dating back to her life drawing classes at art school. This website has been created to preserve Evelyn's memory for those people whose lives she touched, to make available some of her marvelous artworks and to delight those who never had the pleasure of experiencing this unique and magical person.
---